Dental Implants – Things You Need To Know
Damaged or lost teeth can be very irritating. It disturbs the look of your smile by leaving a hole in your teeth or mouth. A dental implant is one of the best methods to get your smile back, and it can change single or more teeth that have been lost because of some injury, disease, infection, or some other problem.  A dental implant is the only choice to change missing teeth returns the smile. At the time of initial consultation with your dentist, they can also talk about other alternatives for changing the teeth, comprising dentures and bridges.
Dental implant operation or surgery is a trustworthy method to replace one or more missing teeth. It can be best for you in many situations comprising: if you have single or more damaged, missing or lost teeth, you search problem in talking, eating, or biting food, you search dentures unhealthy for your mouth, your bone has touched complete growth and if you are fit, have sufficient bone for the whole process.
What Are Dental Implants?
Dental implants denote to artificial roots of teeth that doctors or dentists place in your jawbone. Dental implants offer a robust establishment for permanent or detachable replacement teeth built to match your original teeth. Those who don't have their original or natural teeth can take Dental Implantation treatment. It will permit the applicant to have a regular smile and let the applicant to smile, eat, and talk usually.
The dental implant serves as a replacement for the core of a lost tooth. Many dental implants are prepared from titanium, which permits them to assimilate with bone without being identified as a foreign item in our body. It assists safe fit dentures and bonds as well as applicant peaks put over implants — seem more original than traditional bridges or dentures. Applicants can easily replace either one or almost every teeth.
Types of Dental Implants:
Single-Tooth Implant:
A single teeth implant is the best option for a bond because it does not harm nearby original teeth to stand the bridge. A dental implant is located directly into the root of a damaged, missing, or removed tooth despite a solo tooth. It provides complete functionality and remarkable aesthetics to the patient.
Multiple Dental Implants: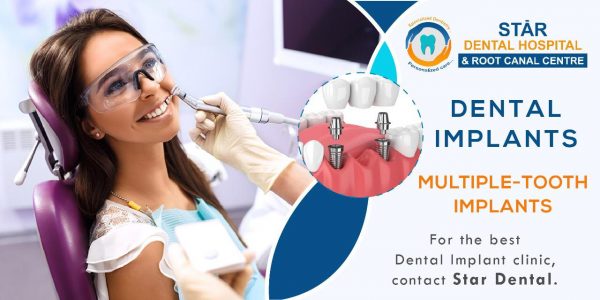 If you have many missing, removed, or damaged teeth or a huge gap, you can use multiple dental implants. For more than one damaged or missing teeth, you may need approximately two implants. This kind of dental implant is between complete mouth replacement and a solo tooth dental implant.
Full-Mouth Dental Implants: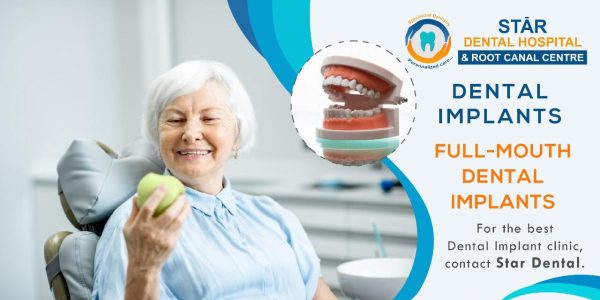 It is likely to change all the teeth to provide the applicant with a fully restored smile. The entire procedure will take nearly six months, but regular teeth will take only a single day. The dentures are adjusted to suit the face and mouth, and it provides the original look.
What Are the Advantages of Dental Implants?
It Improves Speech:
Dental implants permit you to talk without the fear that teeth may slip. Implanted teeth have nearly similar cutting and eating power as original teeth.
Stability and Convenience:
It is an extremely stable tooth replacement choice. With complete maintenance, various dental implants last forever. Dental implants remove the awkward discomfort of teeth removal.
It Matches Your Original Teeth:
Your doctor or dentist will operate with you to plan implants that match the teeth' shade around you and fit effortlessly in the gap.
It Supports nearby Teeth:
A missing or damaged tooth may cause a massive hole in your mouth, causing the teeth to turn backward. Dental implants complete the hole or gap, permitting you to maintain a straight smile.
It Improves Oral Health:
Dental implants improve your overall oral health. Dental implants serve as a substitute root, encouraging the healthy bone and tissue development in your jaw and stabilizing its reliability. The implant also permits easy use between teeth, and it improves oral hygiene.
It Increases Your Self-Esteem:
If you don't like your smile, your self-esteem will slow down. Completing any gaps in your teeth with a dental implant will enhance your self-esteem and, in order, strengthen the superiority of your life.
Success Rate of Dental Implants:
A dental implant's success rate depends on many factors such as surgical method, patient compliance, patient follow-up, and unknown systemic disorder, and nowadays, the success rate is 97%. According to research, studies found that the seven-year success rate is 90 percent for upper teeth implants and 97 percent for lower teeth implants. Lower missing or damaged teeth implantation has the maximum success rate for all dental implants.
A typical dentist inserts nearly 40% of all dental implants with a low success rate. The success rate is generally based on the patient's fitness or health and bone structure growth. Make sure that you must have excellent dental health and complete health. It ensures you have a healthy jaw or bone and gums to offer essential support for the transplant.
Implants at Star Dental:
Star Dental is one of the best implant center or clinic and is located in CIMA Hospital. Star Dental Implant Center's purpose is to provide you the self-assurance you need by getting a proud smile. Star Dental provides top quality treatment at reasonable rates with a Star Lifetime Security on titanium implants. The Star Dental Implant Plan is simple to use, has no usage limitations, and is accessible to anyone.
A dental surgeon checks the place to be measured for the dental implant and clinically evaluates whether the patient is the best applicant for a dental implant. Star Dental always follows the rigorous disinfection protocol while implanting and having a single implant working. For more details about Star Dental Clinic, you need to visit the official website.
Final Conclusion:
Dental Implant permits applicants to positively live their lives to the completest by eating, laughing, smiling, and talking confidently. If you are looking for the best Dental Implant clinic, then contact the Star Dental. Please make a call to the Star Dental clinic to arrange a suitable appointment.